CAREERS IN APPRENTICESHIPS
For school leavers, there's a brilliant future waiting at Bloor Homes. As well as superior training, you'll enjoy real opportunities for rapid career progression. You'll move with us into the future as we discover new ways of creating homes that focus on quality and meet the evolving needs of our customers.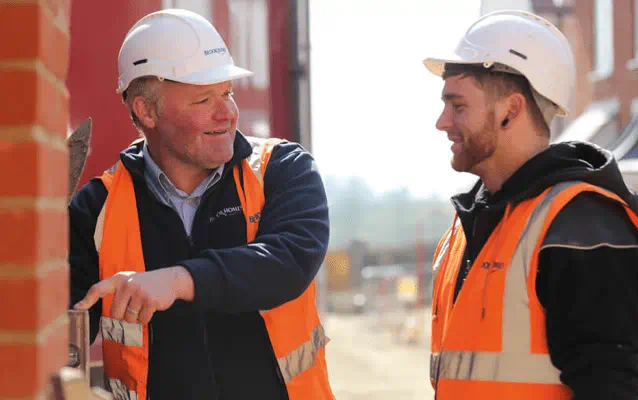 SITE APPRENTICESHIPS
From day one, you will be helping to build houses, learning skills – and getting paid. You will have an agreed programme of learning, and a dedicated Apprentice Master, who is fully qualified and chosen for his ability to coach and develop your skills.

It's not just mud and ladders – you'll need to read plans, use maths and stay safe. You'll attend college on Day or Block Release and will also learn skills onsite which will be assessed by a qualified trainer. After three years, you will be trained to Advanced Craft (NVQ 3) in either Bricklaying or Site Carpentry.

After completing your apprenticeship, your career can take any path you want including applying for our Trainee Site Manager programme. There is no obligation to work for Bloor Homes after completing your apprenticeship – but we hope you do!

OFFICE APPRENTICESHIPS
At Bloor Homes we build more than quality homes. We build sustainable communities for future generations to enjoy – and we help build careers with our apprenticeships too. Sounds rewarding? It is!

Along with our site apprenticeships we also offer excellent office based apprenticeship roles in our business support function such as IT Apprentice and Administration Apprentice. These roles offer excellent development and progression opportunities and a great benefits package.

At Bloor Homes you'll be part of a business that will value you, your contribution and your ideas.