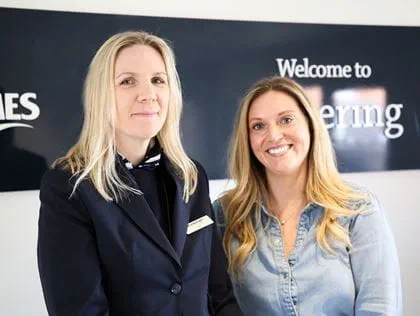 'For us with Bloor Homes, moving home was painless and really, quite enjoyable. We've got the location, with a modern house.
The Sales Advisor was so helpful, I missed her once we'd moved in.
Our home demonstration by the Site Manager, was fantastic, he showed us around and everything was to such a high standard, it was perfect.
The day we moved in was seamless. When we got the keys and moved in, we were able to sit and relax in the garden.
I'd like to say a huge thank you to Bloor Homes that helped us get our dream home. We're so happy here. We've had a really good experience here and I'd buy another home from them in a heartbeat.'
Amy, Bloor Homes @ Feering - Feering
'I remember the day we got our keys. It made our dreams come true. Bloor concentrate on quality, instead of quantity.
We aren't just moving our house, we're moving our family, our future, our life. We have two daughters and a grandson, so we have to have rooms for our family and friends when they want to visit us.
We're really pleased we chose Bloor, just like us, you don't need to worry when you buy Bloor.'
Derek & Alice, Edwalton Park - Edwalton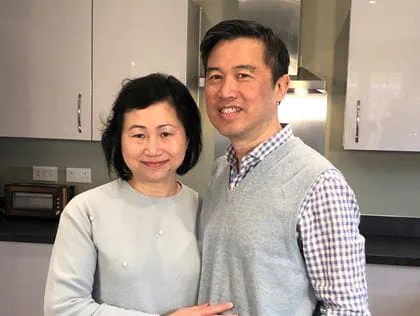 'Perfect, the right size for me and close to everything I do. I chose Bloor, based on what other people who'd gone through it had said. I bought the house off-plan, so I could choose all my items, nice kitchen with quartz worktop, flooring, and carpets and I upgraded my bathroom, so it was just the way I wanted it.
The beauty of having a new build is that I can walk into the house and everything is done. I don't have to do any renovation; all I have to do is put my furniture in and start living because I'm a busy person.
The best thing about the whole journey was the Bloor sales team. I would recommend Bloor, to family and friends because the journey has been fantastic as my house is amazing.'
Melanie, Wavendon Green - Wavendon
'I used to drive past Elgar Park every day and thought how lovely so I came along and had a look at the show home.

The reason I bought a new build was because I was looking at second hand properties and found there was a lot of work to do so when I came to look at Bloor homes I fell in love with the fact everything was lovely and brand new. I thought wow I can pick all the things that I wanted.
I especially like the kitchen because you've got a seating area, cooking area, your utility is separate and you've got a downstairs toilet. I could almost live in my kitchen!
Buying a Bloor Home was a very smooth process. Sandra and Karen were very helpful and always good to answer any questions you had. Everything's been excellent.'
Sue & Dave, Elgar Park - Worcestershire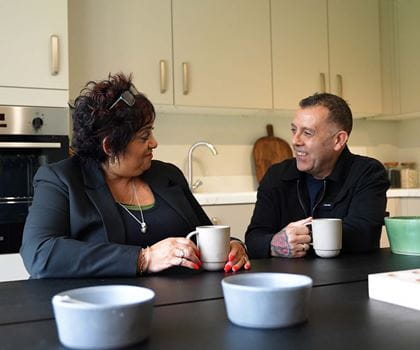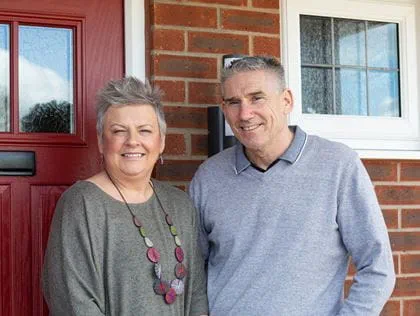 Our daughter and her partner live on this estate and we were really impressed when we saw the quality of the construction.
We loved the layout, loved the position of the house and to be honest, from start to finish it was all very smooth sailing.
Where we are, it's fantastic because we have the grandchildren and the little park's only down the road and it's a very nice community!
Derek & Kerrie, Wistaston Brook- Wistaston
We were not looking for a new build in the beginning, but we found this house and it was exactly what we were looking for. There's that little bit more space and things weren't crammed in.
I found Bloor excellent to work with. I found Bloor really helpful because they totally understood what we needed. They made things as easy as possible!
Ian & Eden, Redhouse Farm @ Towcester Grange - Towcester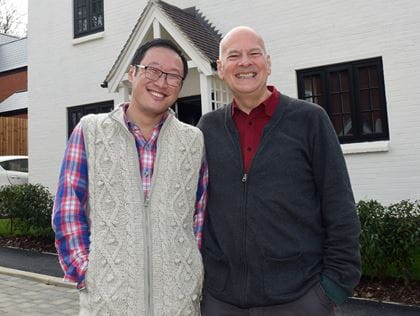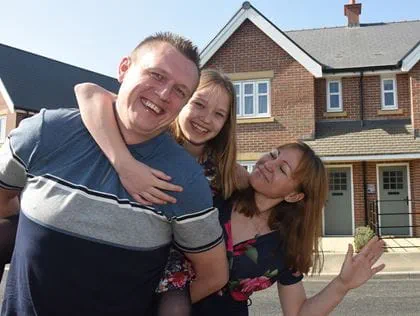 We chased our dream to go on the property ladder and thank goodness it's happened...Bloor Homes was absolutely amazing, they were so helpful and very professional. They always had a smile and gave us lots of advice...we are very grateful.

We worked as a team with Bloor Homes.
Marek, Ela & Amelia, Bloor Homes at Colchester - Essex
Downsizing was the only option for us really...and why not go for new build?

Bloor stood out immensely, easy to speak to and made us feel really welcome from the outset.
I would definitely recommend Bloor to anyone really...first time buyers, older people, young people, families, you can't fault it!
Nigel & Gillian, The Fairways - Binfield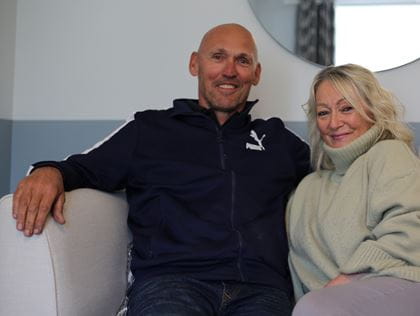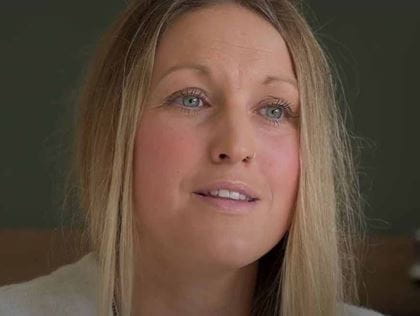 'I made a telephone appointment to come and view one of the showhomes and the staff were absolutely fantastic.
We viewed the property and the staff couldn't have made any more effort with us. We were asked what our criteria were, what it was we were looking for and they went above and beyond showing us all the features of the property, different areas of the estate and really tried to tailor it to what we needed.
If someone was thinking of buying a property here I would tell them absolutely to go ahead. I would say it's the best decision you'll ever make. Moving to the Grove and living in a Bloor home has made a dramatic difference to our life.'
Holly, The Grove at Worcester, Worcestershire