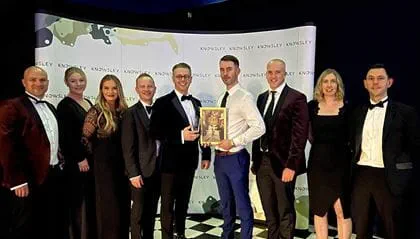 Elowen Garden Village named Development of the Year
Bloor Homes' Elowen Garden Village development in Knowsley has been recognised as 'Development of the Year' at this year's Knowsley Business Awards.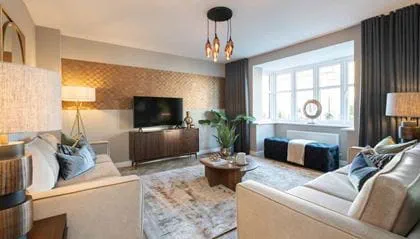 Demand for new homes in Rochford is high with five reservations since launch
Bloor Homes has reported five home reservations since the showhomes at its Kings Hill Park development on Ashingdon Road in Rochford opened.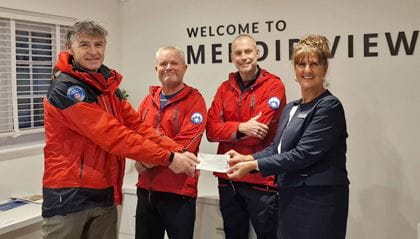 Bloor Homes donation supports Avon and Somerset Search and Rescue
Avon & Somerset Search and Rescue (ASSAR) is the recipient of a £1K donation from Bloor Homes after volunteer, Dave Parke approached the developer.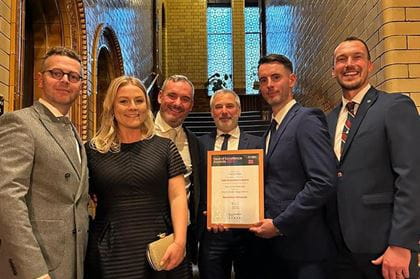 Bloor Homes Site Manager Scoops Top Quality Award
Tom Potter, Site Manager at Bloor Homes' Elowen Garden Village in Whiston has scooped a top award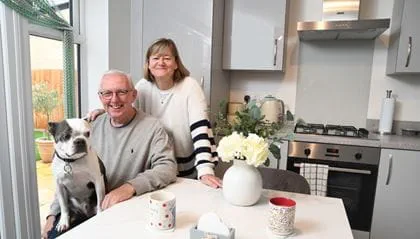 Downsizing couple find perfect home at Paxton Mill
Downsizers Sarah and Mark didn't want a new-build home, until they visited Bloor Homes' Paxton Mill development near St Neots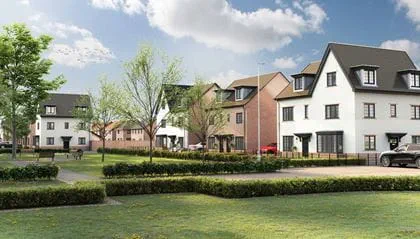 Bloor Homes celebrates Kings Hill Park launch
Bloor Homes is celebrating the official launch of the new marketing suite and showhomes at the new Kings Hill Park development in Rochford on 4th and 5th November, by announcing two community support initiatives benefitting people in the local area.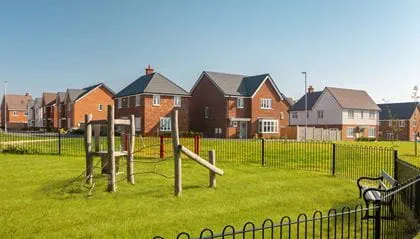 New home at The Grove is "best move we ever made"
A new homes purchaser at The Grove – Bloor Homes' development of 325 new homes in Worcester, has described her experience as 'the best move we've ever made' after purchasing a four bedroom 'Morris' modern townhouse for her and her two daughters.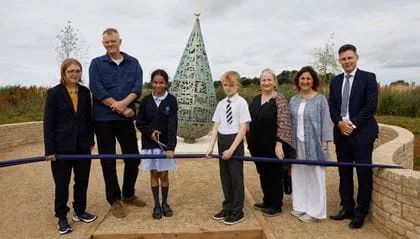 'Seed of Change' officially unveiled at Banbury Rise
A new 2 metre high 'Seed of Change' artwork designed through collaboration with more than 600 school students in Banbury during Covid-19 lockdowns, has been unveiled at Bloor Homes' Banbury Rise and the final 9 homes left for sale there have been confirmed.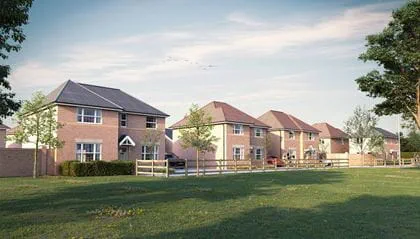 Bloor Homes announces new homes at Winslow Park ahead of launch
Residents in Winslow, Buckinghamshire can now have a glimpse of the new 120 energy efficient homes being built at the development, as the first plots & prices launch online this Monday (16th Oct).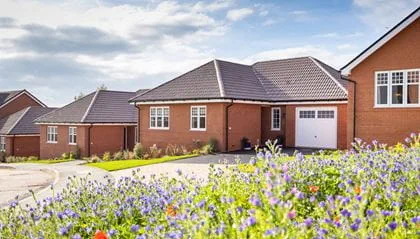 Rare Bungalow 'Open House' in Pinhoe this weekend
Bloor Homes has announced a rare opportunity to see a brand-new bungalow showhome with integral garage at an 'Open House' event this weekend (14th / 15th October) located at its Pinhoe development in Exeter.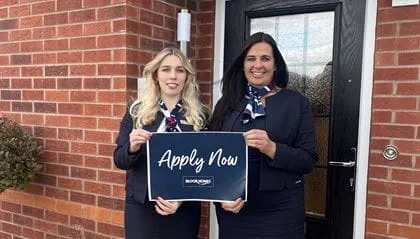 Local sports clubs invited to apply for donations from Bloor Homes Community Sports Fund
Local sports Clubs in Warwick and Leamington have until 9th November to apply for one of four £250 donations from Bloor Homes' Community Sports Fund.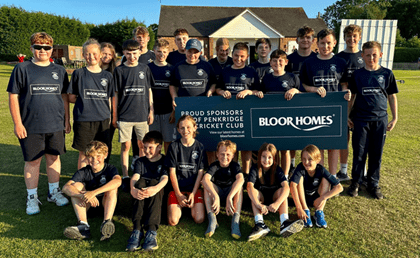 Bloor Homes gets Penkridge Cricket Club across the line with £1500 donation
Penkridge Cricket Club has scored with a donation from Bloor Homes – with the money going towards the junior training team kits.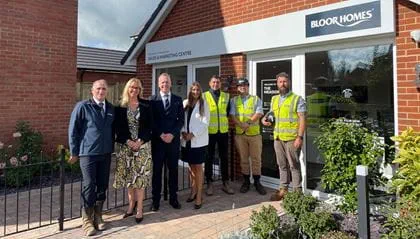 Homes in demand as Bloor Homes welcomes first visitors to The Meadows, Cullompton
Bloor Homes has already secured six sales at its new Cullompton development ahead of the showhome launch on 30th September.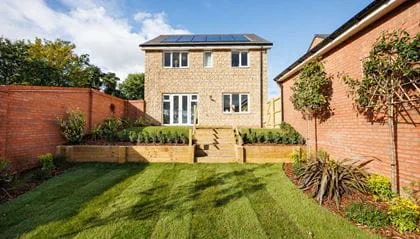 Bloor Homes brings EV & solar powered homes to Ivybridge
The second phase of Bloor Homes' new Filham Chase development is taking shape, with 87% of homes featuring solar panels, and 100% already future-proofed for Electric Vehicle (EV) charging.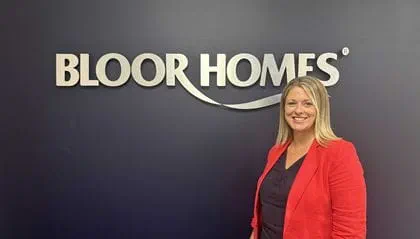 Bright future for new Sales Director at Bloor Homes East Midlands
Bloor Homes has appointed Clare Bright as its new Sales Director in the developer's East Midlands region, where she is heading up a team of eighteen in the sales and marketing department.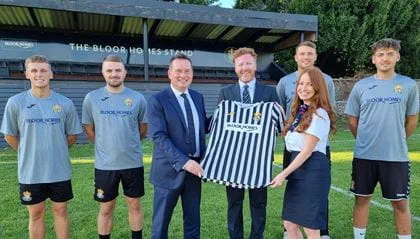 Ledbury Town FC warms up for new season as Bloor Homes names nearby development
Ledbury Town FC have benefited from the ongoing partnership with Bloor Homes, with the new homes developer providing warm up tops for Men's 1st, 2nd, 3rd and Under 18s teams for the coming season.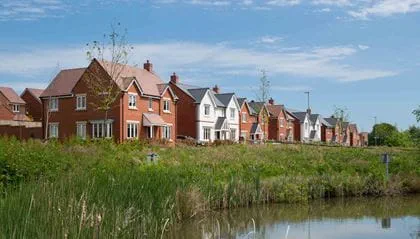 Bloor Homes highlights final new homes for sale at popular Botley development
A popular development of new homes at Boorley Green near Botley in Hampshire is coming to a close, with the 90% of the new homes on the final phase there now sold.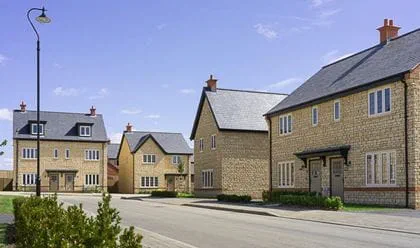 Bloor Homes event to help buyers get on the property ladder
Bloor Homes is hosting a two-day event to help people explore how they can get on the property ladder.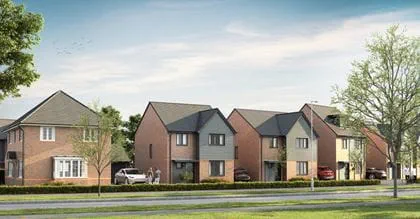 Bloor Homes announces Help for Homebuyers event
Bloor Homes is hosting a two-day 'Help for Homebuyers' Event on Saturday 16th and Sunday 17th September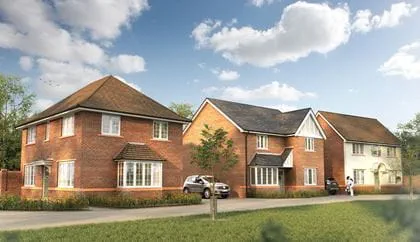 Bloor Homes holds two-day event to support those seeking family sized homes
Bloor Homes is hosting a two-day event at its Cranfield Park development on 16th and 17th September.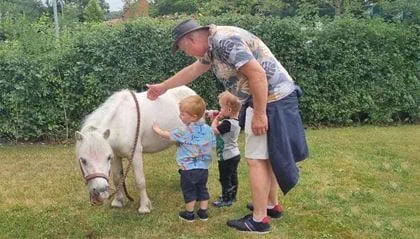 Boorley Park Primary School provides free activities thanks to Bloor Homes donation
Bloor Homes' Southern region was pleased to support a local primary school's Summer Fete this year, with a donation of £500 to keep activities free for the pupils and their families.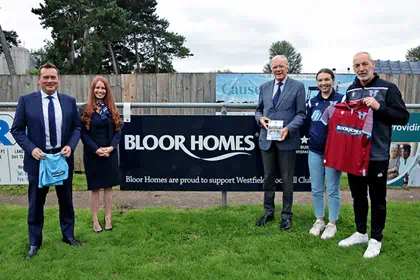 Bloor Homes Takes Sponsorship of Westfields FC to Next Level
This time last year, Bloor Homes was announcing its third year of sponsorship for Westfields FC Women's team just as England's Lionesses won the Euros.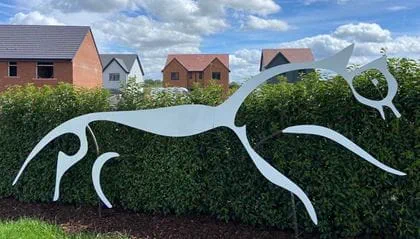 Horse named 'Nova' to celebrate showhome launch at Bloor Homes at Shrivenham
Following a great response from the public to give the Horse sculpture a name at Bloor Homes at Shrivenham, Bloor has announced the winner as Jess Mason, who suggested 'Nova'.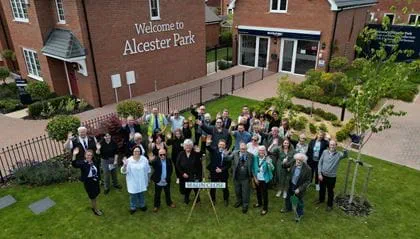 Bloor Homes and Alcester Town Council commemorate six former Mayors of Alcester
Bloor Homes Western region and Alcester Town Council have commemorated six former Mayors of Alcester at a street naming ceremony on the Northern Phase of the Alcester Park development.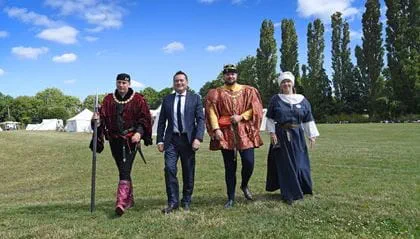 400 students time travel thanks to Tewkesbury Medieval Festival Schools Day
400 hundred students from local schools & home educated students, were given the opportunity to go back in time & experience a great battle, thanks to Tewkesbury Medieval Festival's Schools Day.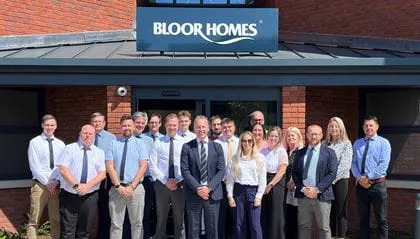 New horizon for Bloor Homes, Exeter as £2.7 million office extension completes
Bloor Homes' Exeter region has a new-look thanks to the completion of a £2.7 million extension to its Horizon House offices, complete with extended meeting and training & conferencing facilities.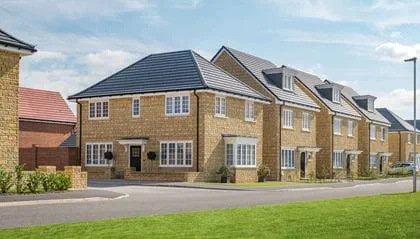 Bloor Homes highlights final new homes for sale at popular Melksham development
A popular development of new homes in Melksham is coming to a close with the last six homes left remaining for sale.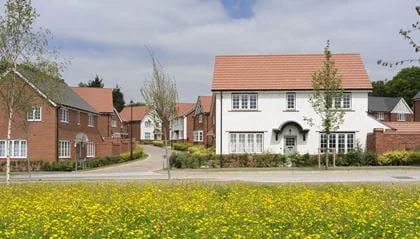 Bloor Homes' Beefold Meadows bucks trend with five sales ahead of Summer
Bloor Homes' new Beefold Meadows development is bucking trends, with 5 homes already reserved ahead of the showhomes launch.
Community Book Pledge receives funding to boost Holmer Primary School library
Leominster-based independent Usborne Partner Rosie's Book Store, has partnered with Bloor Homes to provide 163 books to Holmer Church of England Primary Academy in Holmer, Herefordshire.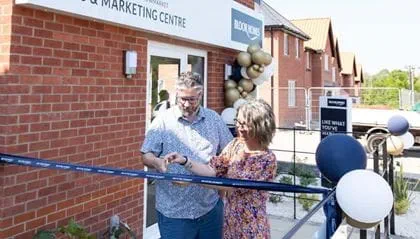 Smooth move: First purchasers officially launch Stowmarket showhomes
The first purchasers at 'Bloor Homes at Stowmarket', Emma and Stephen Johnson, have officially launched the new showhomes at the new development of 146 two, three and four bedroom homes.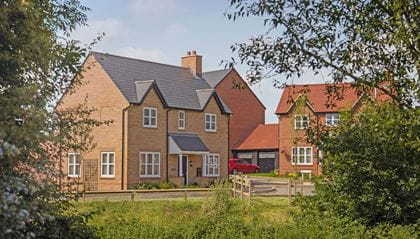 Over £1.86 million to be invested in Winslow area as part of new homes development
Planning permission has now been granted for a 120-plot site in Winslow, which will bring an investment of over £1.86million to the market town and its surrounding area.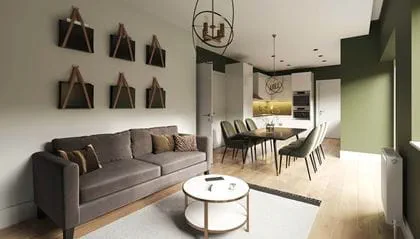 Five reasons to buy a five bedroom home at Keyworth Rise
As well as the traditional mix of two, three and four bedroom homes newly built at Bloor Homes' Keyworth Rise development located off Bunny Lane, the new homes developer also has a select number of special five bedroom homes on offer.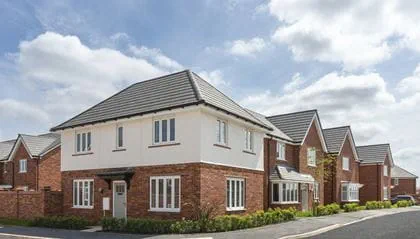 Bloor Homes highlights homes for sale within school catchments ahead of deadlines
Families wishing to move to the right catchment area for two popular Broadheath schools can find a new home at Bloor Homes' Elgar Park development.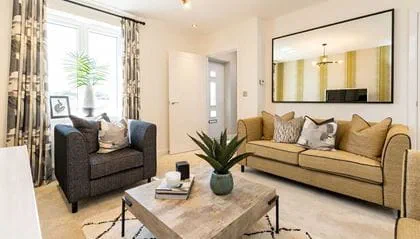 Bloor Homes urges first time buyers to make informed decisions about buying a home
Bloor Homes is urging first time buyers to make informed decisions about purchasing a new home with events on Saturday 15th and Sunday 16th July at Wavendon and Cranfield.
Ferrers Green development bucks trend with 80% now sold
Bloor Homes' Ferrers Green development in Newbold Verdon, is one of the East Midlands region's most sought after developments, with 106 of the 116 new homes having sold in just 18 months.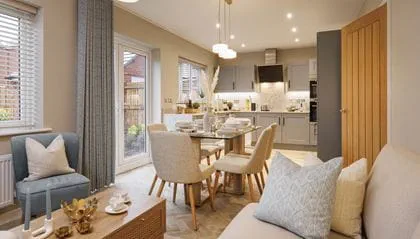 Bloor Homes' Suttonfields development bucks trend with 7 sales ahead of summer launch
Bloor Homes' new Suttonfields development in St Helen's is bucking current property trends, with 7 new homes already reserved - before the development launches with its showhomes in August.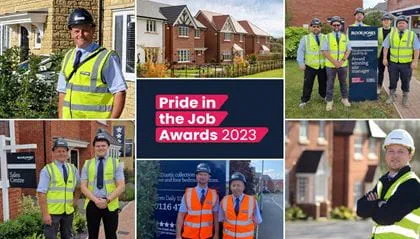 Bloor Homes Celebrate NHBC Pride in the Job Winners at 2023 Awards
Bloor Homes is celebrating the recognition of twenty-two Pride in the Job Quality Award-winning Site Managers this year.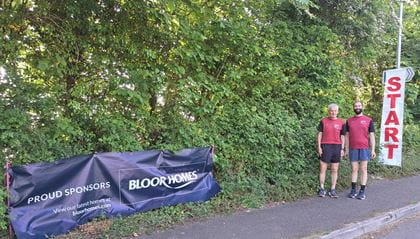 Ivybridge 10k races ahead with housebuilder's donation
A local Ivybridge 10k race was boosted by a donation from housebuilder Bloor Homes.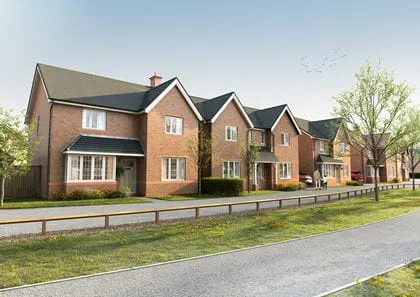 New showhomes set to launch at Harlestone Park
Two brand-new Harlestone showhomes will be opening their doors to visitors for the first time on Friday 23rd June.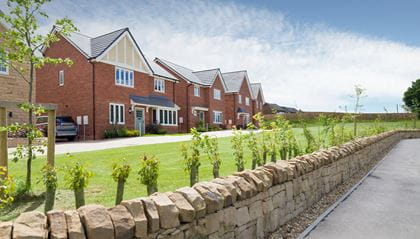 100% mortgages could spell good news for first-time buyers
The 100% mortgage is back, after Skipton Building Society last month launched a no-deposit deal aimed specifically at first-time buyers, with a five-year fixed rate of 5.49%.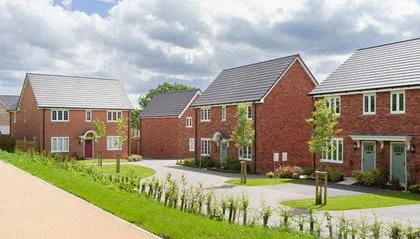 Bloor Homes North West wins prestigious award for Congleton development
A new homes development in Congleton has won a prestigious award from the LABC, beating dozens of other sites in the north.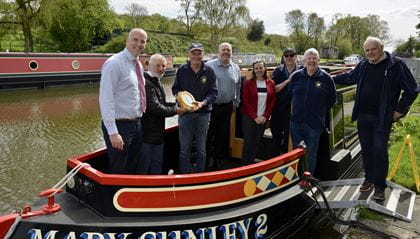 Defibrillator gets home aboard the Mary Sunley 2, thanks to Bloor Homes
As part of an ongoing initiative, Bloor Homes has donated a defibrillator to the Mary Sunley Canal Boat Trust.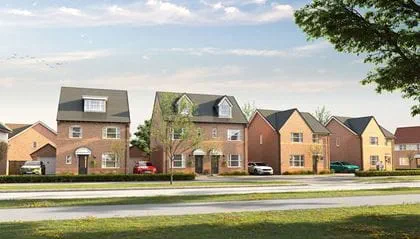 The Asps has so much more than just kerb appeal, says Bloor Homes
Bloor Homes has announced the release of its first new family homes available at The Asps – but this is no ordinary development.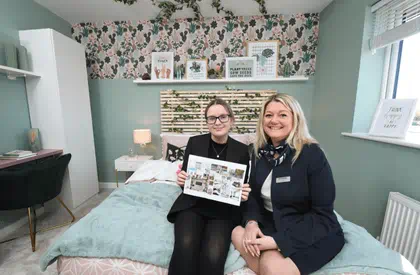 Student's winning bedroom design brought to life in showhome
A student from Newport Girls' High School has seen her design brought to life after winning a competition to design a bedroom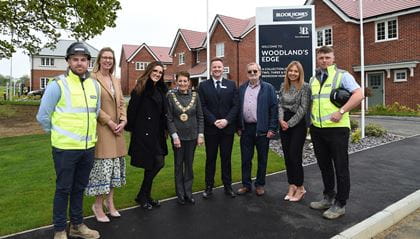 Mayor launches showhomes marking Bloor Homes' return to Waterlooville
The Mayor of Winchester, Cllr Angela Clear, officially opened Bloor Homes' new showhomes at the company's Woodland's Edge development at a VIP event.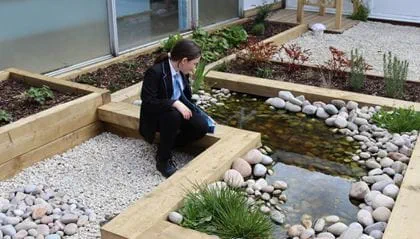 School turns disused space into sensory garden with help from Bloor Homes
King Edward VI Balaam Wood Academy has transformed an area of disused space into a sensory garden with Special Educational Needs and Disabilities (SEND), with help from Bloor Homes.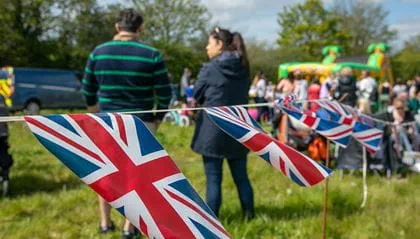 Bloor Homes marks return to Berewood with donation to Coronation event
Bloor Homes' Southern region has celebrated returning to Berewood in Waterlooville with a donation to Newlands Community Group supporting its celebratory Coronation picnic and fete.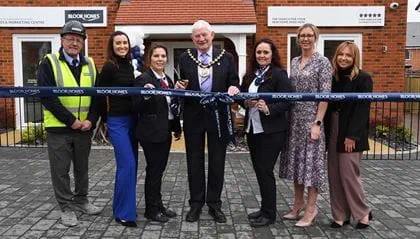 Mayor Launches New Showhomes at Bloor Developments
The Mayor of Basingstoke and Deane, Councillor Paul Miller recently launched five new showhomes at 'Bloor Homes on the Green' and 'Bloor Homes on the 18th.'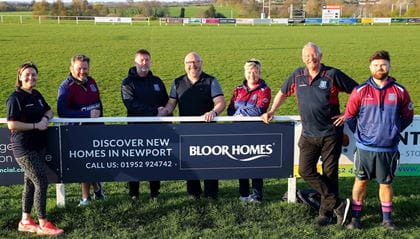 Newport Rugby Club scores with donation from housebuilder
Newport Rugby Club has been boosted by an incredible £5000 seasonal donation from housebuilder Bloor Homes.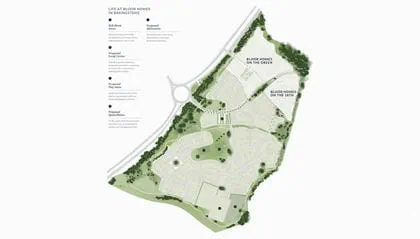 Fabulous Five – New Showhomes Launch at Bloor Homes in Basingstoke
Bloor Homes' Southern and South West regions have come together to launch two new developments in one location – 'Bloor Homes on the Green' and 'Bloor Homes on the 18th.'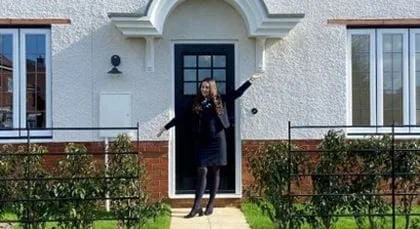 Homes so good you want to work for the company who built them
Staff are choosing to work for the company after they or family members have purchased a Bloor Home.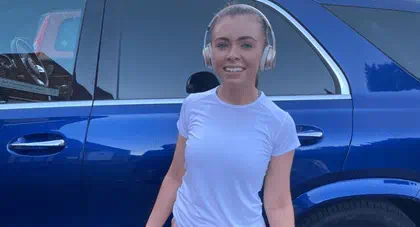 Tattiana Taffs races London Marathon
A fitness fanatic from Rugby is raising money for charity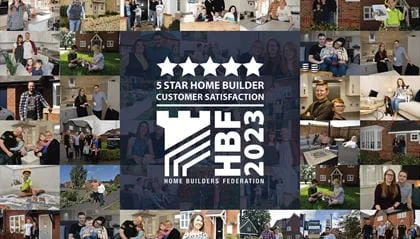 Bloor Homes recognised as a five-star housebuilder for customer satisfaction
National housebuilder Bloor Homes has received the coveted five-star rating from the National New Homes Customer Satisfaction Survey from the Home Builder Federation (HBF).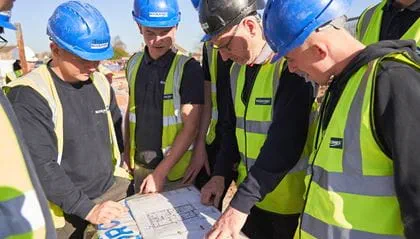 Skills for Life: Bloor Homes announces apprenticeship opportunities across the UK
Bloor Homes has announced the opening of online registration for this year's intake of new Carpentry and Bricklaying apprentices across the country is at the end of March 2023.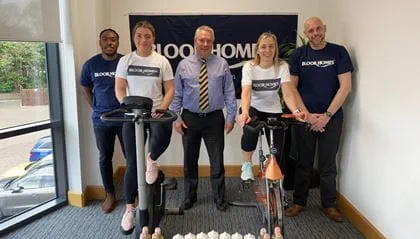 Bloor Homes racks up the miles for Comic Relief
This year Bloor Homes' Southern region is raising money for Comic Relief by taking part in a 'virtual bike ride' from its regional head office in Newbury, to Wimborne in Dorset and back – a distance of 132 miles.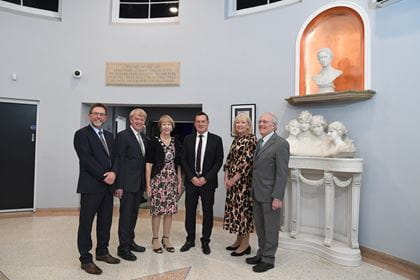 Iconic Greig Hall Launches
Alcester's community has come together to celebrate the Grand Opening of The Greig Hall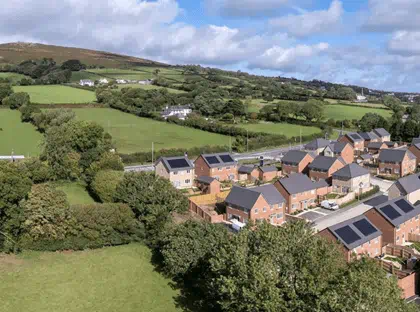 Residents harness solar energy in newbuild homes
New residents at Bloor Homes' Filham Chase development in Ivybridge will be harnessing solar power via solar panels ready-fitted to the new homes.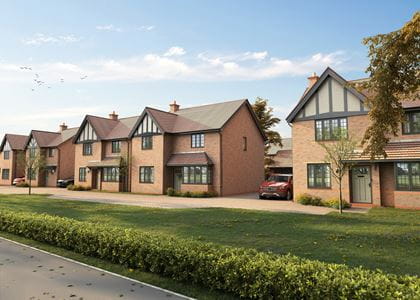 Homebuyers could save thousands every year
Figures released by the HBF (Home Builders Federation) this week show that buyers could now save up to £3100 annually on their energy bills by choosing a newbuild home.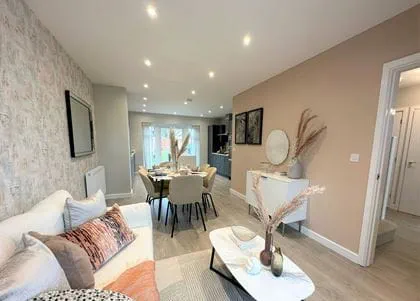 Bloor Homes launches awaited showhomes at Elsenham
Bloor Homes looks forward to welcoming the first visitors to its much-awaited showhome launch at the brand new 'Bloor Homes at Elsenham' development.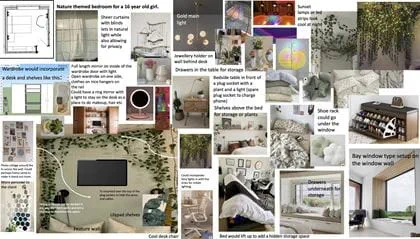 Newport Girls High School Student Wins Bloor Homes Design Competition
Newport Girls' High School student Ionee Waters has won the opportunity to have her interior design ideas brought to life when Bloor Homes launches new showhomes at Hutchison Gate in April.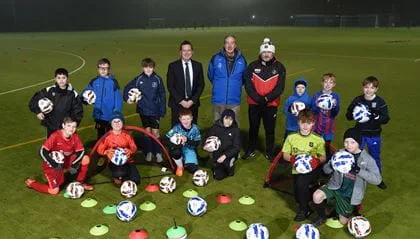 New Equipment Announced for Ledbury Swifts
L
edbury Swifts Football Club has secured much needed equipment for its players, thanks to support from Bloor Homes.
Bloor Homes highlights apartments at Blythe Valley
Bloor Homes is expecting demand to increase for its apartments at Blythe Valley, following a report by property site Zoopla.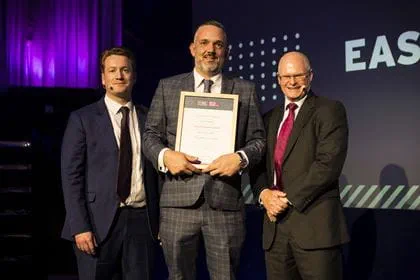 Bloor Site Managers across the country win prestigious industry awards
A huge congratulations to our twelve Site Managers across the country who have taken home prestigious Pride in the Job awards over the last month.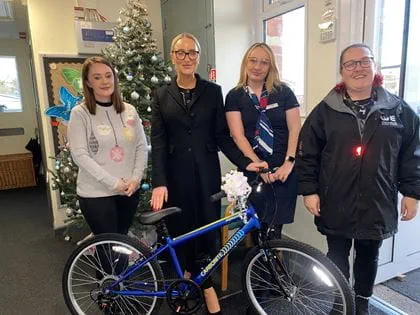 Winner Rides Off with Top Prize
One lucky winner at West Huntspill Primary Academy took home a new bike after Bloor Homes donated a Piranha Carbonite mountain bike as the top raffle prize for the school's Parents and Teachers Association Christmas Fete.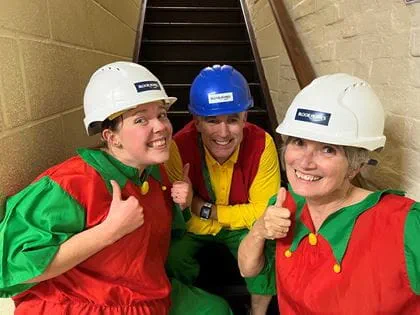 Bloor Homes Sponsors Stowmarket Panto
Bloor Homes' Eastern region has been busy supporting the communities it builds in this year, including a series of initiatives in and around Stowmarket.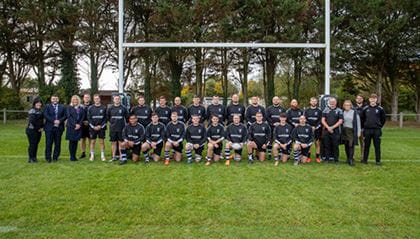 Local Rugby club scores kit sponsorship from Bloor Homes
Players from North Petherton Rugby Club have been given a boost thanks to a sponsorship package from a local housebuilder.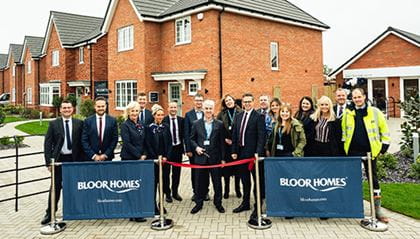 First visitors explore brand-new showhomes in Cheadle
The doors to two brand-new showhomes in Cheadle were opened to visitors for the first time last Friday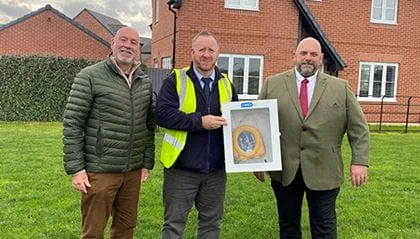 Bloor Homes donates defibrillator
A Holmes Chapel based housebuilder has donated life-saving equipment to the Woolstanwood area.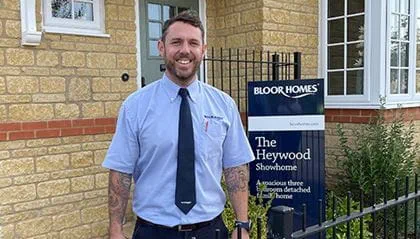 Regional Construction Award Takes Ben to Final in January
Ben Yates, a Site Manager for Bloor Homes' South West region has been announced as the West of England Regional Winner for Best Residential Site Manager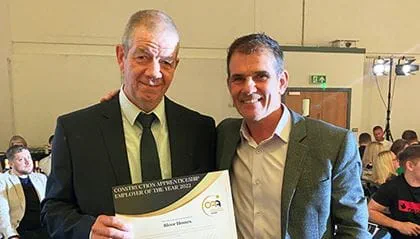 Bloor North West gets Construction Apprenticeship Employer of the Year
A Holmes Chapel based housebuilder has won a prestigious award which recognises excellence in apprenticeship schemes.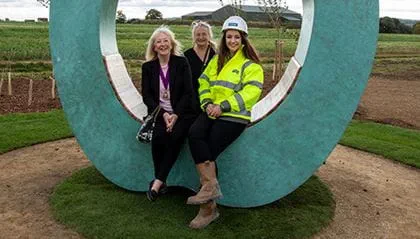 From Small Seeds the Mighty Apple Grows
The 'Apple Seat' at Orchard Way, has officially opened at the completed Bloor Homes at Boreham development.

Bloor Homes acquires land in Saltash
Bloor Homes has acquired land at the existing Treledan development in Saltash, Cornwall for the development of 613 new homes.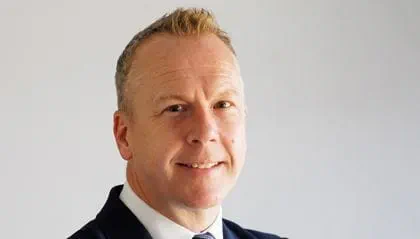 Bloor Homes launches new Exeter region
On 1st July 2022 'Bloor Homes Exeter' will officially launch as a new region for the company, creating new jobs and ensuring the continued delivery of its new, quality homes across the South West of England.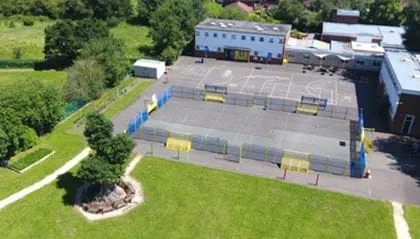 Bloor Homes Supports New Dedicated Sensory Room
Outwood Primary School's new sensory and learning space will support children in many ways such as developing their senses and ability to understand and express their thoughts and feelings.

Look for a Book event in Heald Green
Children across Heald Green will be encouraged to develop their love of reading over the summer holidays, thanks to a 'Look for a Book' event.

Bloor Homes Sponsors Westfields FC Women for Third Year
Bloor Homes is proud to announce its continued shirt sponsorship of Westfields FC Women team in Hereford for a third year.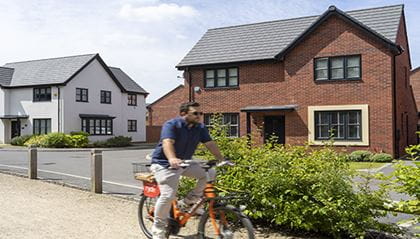 Pop-up Event at Bloor Homes' Hereford Point to Showcase Sustainable Travel
Visitors to the sustainable travel pop up event at Bloor Homes' Hereford Point development can make greener choices by finding out about all the sustainable travel options available to them in the area.

Youth football team score kit sponsorship from Bloor Homes
Young Congleton football players from the ages of seven through to 14 are looking smart thanks to a new kit donation.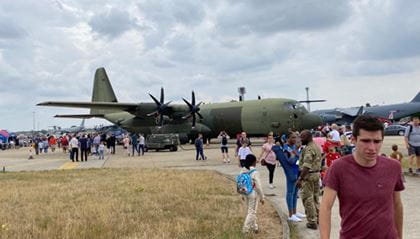 Brizefest takes flight with sponsorship from Bloor Homes
This year's BrizeFest Families Day at RAF Brize Norton soared, in part thanks to a donation by Bloor Homes.